SP#4 : In Love with Full Moon & Tiger temple Afternoon program.
Exceptional package designed for Tour with Tong's guests only... Spending early hours with our super star elephant
"Full Moon"
..Sweetheart of many tour with tong 's travelers..NOT TRAINING program...Your giant friend doesn't need a training.
The wonderful day continues with the tiger temple...where you can touch, walk, have photos taken with the tigers in the monastery...A special day that you will always remember it fondly...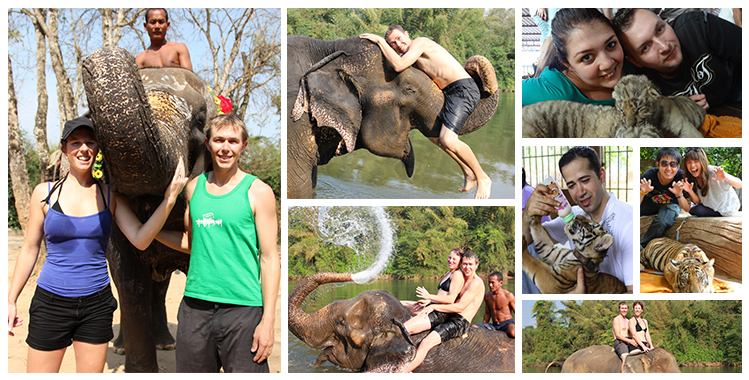 Pick up at 4:30 am @ your hotel in Bangkok.
Direct to Kanchanaburi Province.
Visit The Bridge Over the River Kwai.

(Early in the morning to get the most beautiful photo opportunity when it's not too crowded and too hot!!)

Arrive the Elephant camp.
Preparing elephant foods by mixing sticky rice, rice bran and vitamin tablets altogether and shape it like big meat balls.
Feeding Full Moon with the prepared food.
Feeding Full Moon with some fruits which we extra bought for her.
Measuring the height of Full Moon with rope before riding her on bareback in the jungle.
Going down to the river and walk in the river along with the impressive scenery of the River Kwai and jungle.
Play, swim, enjoy water fighting with Full Moon in the River.
Bathing and Scrubbing Full Moon with shampoo.
Gently apply some medicine on Full Moon's skin for any insect bites or protection.
Massage Full Moon with the massaging tools.
Power Full Moon and put your hand prints on the body of the Elephant for memory photos.
Having a light brunch while waiting for a souvenir photo from the camp.

A la carte Lunch in a local restaurant.

(If you have any special diet, pls advise us via emal in advance)

Attend the tiger temple afternoon program.

Back to Bangkok and arrive Bangkok at around 5 pm.
Price
: 6,700 baht/person for a group of 2 people.
(Valid for any bookings made from
now - July 31, 2014
only)
This price is included :
(Private) Air-conditioned Transport.
Gasoline & Toll fees along the trip.

(Private) Licensed English Speaking tour guide

(Note : Your personal tour guide will accompany you from/to Bangkok hotel throughout the excursion to give you any useful information during the trip)

All activity cost for the special in love with FULL Moon program.

A la carte Lunch in a local restaurant.

(If you have any special diet, pls advise us via emal in advance)
This price is excluded :
Personal Expenses.
Anything not mentioned in the program.

Extra activities at the tiger temple such as cub feeding, exercise with the tigers, special photos

(This upon availability and you can pay extra directly at the tiger temple if you wanted to do it)
Special Note :
Please read the dress codes and other instructions of the tiger temple and elephant bath given on our website in details.