Maeklong Train Market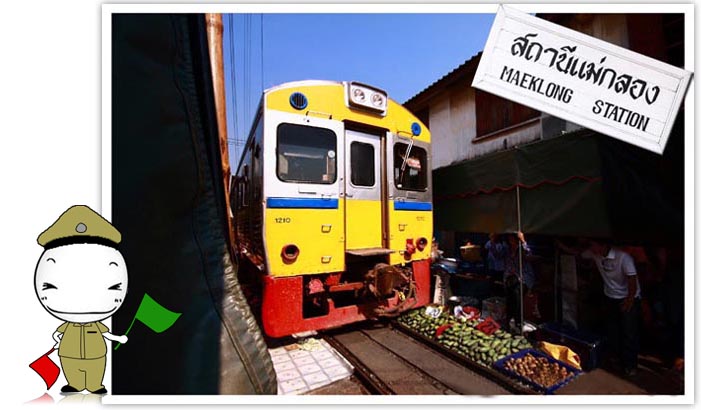 Guide : ---Are you ready?... Run!!! -------------- -Watch out!!
Tourists :  Wow! …Cool...that's ------------------- crazy…Incredible…
Amazing…Oh my God!
Why do they need to do ---------------that!!?!!..
you've gotta see it for -----------------REAL!!

--Not only Experiences through a local's --eyes,
--but also through a local's feet with us!! - (Ha!)
Passenger trains pass through this risky market

8 times a day

for almost 30 years….located in the smallest province in Thailand,

Samutsongkram

, only an hour drive away from Bangkok

(on the way to Damnoen Saduak Floating Market)

, you will get a breath-taking experience that you will never forget!!!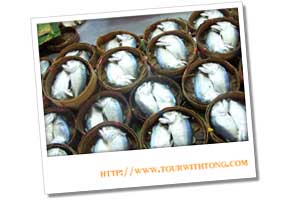 It's a real way of thai lifestyle…very unique for tourists , but it's just a common fresh market for Thais in the area..You will get to see (and smell!)  a great variety of goods, vegetables, fruits, meat, unusual stuffs, fish, frogs, tuna, shark, mussels, fresh lives, dried seafood, sweets, curry, flowers sold along the way…Only 300 meters long  on the real train tracks..you will be entertained with the real atmosphere of  local businesses going on…some friendly and moody vendors..thai shoppers who don't really care even when the train's approaching…They just wanna shop till the last minute the train comes! Some lost tourists who don't know which direction or how further to go…or some strangers who don't really know that they are walking on the active train tracks!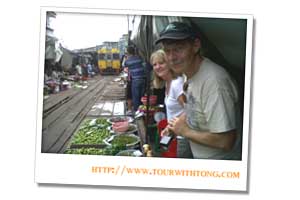 Just 3 minutes.. advanced warning??
It's plenty of time for them to move their stuffs, put down awnings, umbrellas, and yell towarn everyone to back up!!
Wait until the train passed through in the middle…
When the train passed by, they just move everything back again like nothing happened!
Train here has never been on time… We love that... such an excitement.
             
Running shoes are highly recommended!!!!


Remarks :  - For a safe and fun visit, please follow our guidance and instructions strictly as we don't want you to offend locals by no means and cause them any inconveniences. Smoking is not recommended as well as Pointing anything with your foot is strongly prohibited!!