Tiger Temple Tips
Get Ready!!!
We suggest reading this information before you embark on the Tiger temple tour. It is always best to remember that you will be around wild animals, you might not want to put yourselves at risk in any way.
We hope these instructions will be valuable to anyone visiting the temple regardless of whether you decide to use our services. We want you to have a safe and pleasant trip.

Sleep well and be prepared for your new adventure!!

Make sure you have your camera(s) and video camera(s) fully recharged the night before. Bring all your own camera(s) you have, especially for a family group, try not to share camera to make it most convenient and save time considering the vast number of visitors and load of photo opportunities in this place. Camera batteries, memory cards should be promptly prepared.
Professional video cameras used for making news, movie or TV programs are not allowed, Advanced permission is required by letter or by email to the tiger temple directly.
Prepare your own special diet or medicines as well as First Aid (HA!). Since the tiger temple is located in a remote area and quite far away from the city and residential areas.
The Tiger temple also offers bottled water free of cost, but if you have a super sensitive stomach, we recommend you carry your own.
Sunscreen Lotion, mosquito repellents are recommended.
Hats, sunglasses, a small foldable umbrella would be a good idea. But not in any bloody red,  bright orange, shocking pink colors. This is also applied for your bags, backpacks and any attires.
Stroller for a baby is allowed, but at some points, you will have to carry your baby given the uneven ground, and especially when you approach the tigers, since it can be seemed as a toy for the tigers.
Wheelchair is allowed, but it's best not to go down to the canyon given the uneven ground and wheelchair can scare some tigers. It causes you unable to get close to them while you're on the wheelchair.
It is best to carry necessary things into the tiger temple, like your camera, spare camera batteries, memory cards, money and other valuables, in your backpack. We suggest you leave any unnecessary things in the private hire (if you have arrived with a private car/guide).
Foreigners or expats are not allowed to get in the tiger temple before noon. Only thais are allowed for merit making.  Exception applied for tourists who attend the VIP morning program.
When you arrive the tiger temple and bought the ticket, you will be made to read and sign a disclaimer form at the main gate before you get in. It basically states that you are entering at your own risk and that the temple is not responsible in case of an untoward incident. We want you to be aware of this before you decide to tour the tiger temple. If you are uncomfortable with this, feel free to contact us for further clarification.



Dress Codes.
We understand that it is hard to be completely covered given the heat and humidity all year round. Even so, we ask you to dress appropriately, so as not to offend the sensibilities of the many monks who live at the tiger temple and for your own safety.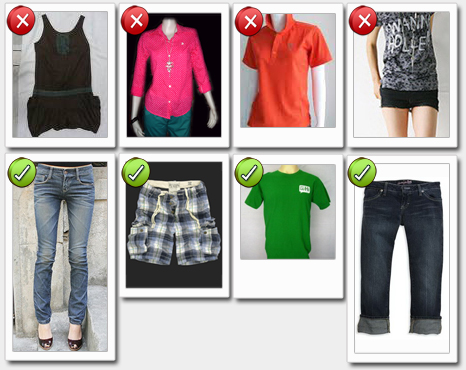 Do not wear any bright colors like bloody red, bright orange, shocking pink. Neutral tones of these mentioned colors are allowed. Anyhow, it's best to dress in blue, green, brown or in any dark tones. As light tones like white or pale colors can get dirty easily. The main reason is these colors are not only tempting for the tigers, but also for water buffalos and bulls. However, the tigers are mainly chained up for the afternoon program, but water buffalos and bulls are roaming loose. If you don't want to be their target, please follow our instructions.

Yellow color is subsequently deemed safe to be worn for now. We still suggest subtler tones of yellow, though, as opposed to bright yellow. The monks staying at the temple wear a darkish brown color with yellow overtones.

Polite dress is suggested. It's important to wear tops like T-shirt or any fashionable style with your shoulders covered. (scarf for covering your shoulders is not allowed), No spaghetti tops or see-through or sexy attire. Capri or shorts or skirts down to the knee-level are allowed.  Anyone whose dress considered inappropriate will be made to buy the T-shirt or pants provided by the tiger temple.

Try to wear as little jewelry or ornaments as you can. They can be lost, torn and can be toys for the tigers. Don't worry too much about the color of your nails.
Comfortable shoes like sport shoes are recommended. Sandals are allowed.



How to behave with the monks.
Visitors to any temple including the tiger temple are allowed to talk with the monks and take pictures with them or take pictures of the monks, but we request you to do so in a polite manner.
Women are not allowed to touch the monks, and cannot receive or take anything from the monks directly. Exchanges are to be made indirectly, using a table or clothes.

If a woman wants to sit by a monk, it is recommended to sit at a lower level as a sign of respect. Most of the monks and staff speak a little English, but it might be difficult for them to convey appropriate behavior. Men are allowed to interact with the monks without such restrictions.




Do's and Don'ts.
Follow the instructions given by the tiger temple staffs, volunteers, monks and your licensed guides at all times.
No drunk tourists are allowed to get in the tiger temple.
No smoking if you're near the tigers.
All the photos will be taken from your own camera sometimes by the staffs and by you depending on situations. Not by you yourselves all the time. Make sure you feel comfortable with this.
Flash off for your camera as it's sensitive for the tigers' eyes especially for the Tiger cubs.
Don't yell and make any unnecessary noise, as it is considered impolite and it might excite the tigers and please don't run as it can draw the tiger's attention.
Don't sit if you're facing the tiger and be in reach especially while you're taking pictures of the tigers because you will be looked smaller than you are in the tiger's eyes. Also don't turn your back on the tigers if you're in reach as the tigers attack people from the back.
Whenever you want to take pictures with the tigers. Do it by walking in from the back of the tigers only, not from the front of the tiger's head or beside the tiger's head.
Touch the tiger on the back only, not on his head. And don't put your fingers in tiger cub's mounth to avoid any infection from anything applied on tourist's skin.
There are other animals roaming loose. Please respect them and do not disturb or tease them. Do not touch their horns. Some animals appear docile but can be dangerous when taunted.
Don't carry any fruits or foods in a clear or plastic bag to feed animals especially when cattle, bulls and horses are around.
This sounds silly, but do not litter please.
Walk with the tiger.
Available at 1 PM down to the canyon and 3.30 PM up to the cages.
Just a short photo opportunity , but it's exciting enough to make you forget to breathe!!  Keep in mind about what to do and you will have a safe walk.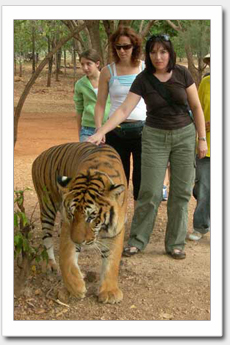 Line up and get your camera ready for the tiger temple staff to take photo for you. You will have to let the staff know how many people sharing a camera. You will walk one by one among the helpers.
The monk will also walk with the tigers. Be sure that women will touch only the tiger, not the monk.
Keep your bottled water in your left pocket or in your left hand while walking with the tiger or best leave it with your guide to make sure that it won't cause any noice to excite the tiger.
Do not walk in front of the tiger's head or beside the tiger's head. Walk beside his body and stroke his back with your right hand at all times to let him know that you're there. As the tigers here are mostly familiar with being touched since they were young.
When finished, the staff will pull you away from the tiger, just wait for your camera to be returned by the staff. Don't go in front of the line or the tiger's head to get your camera back. If everyone has had a photo taken already, you can do it again if you want to.
If you would like your child to have photo taken walking with the tiger, while waiting, you must stand in front of your child at all times. Never let you child stand or sit facing the tigers, for safety reasons. Any group with small children will be made to walk with the last tiger only.
If you have a baby, you can carry your baby, but if your baby starts to cry, its best to immediately move away from the area close to the tigers. Similar restriction apply for any situation when you're near the tigers.


In the Tiger Canyon.
Normal photo (at no charge) and Special photo with the tiger's head in your lap (at 1,000 baht/pax or per family) options are available for you to choose from. Souvenirs are also provided for additional donation.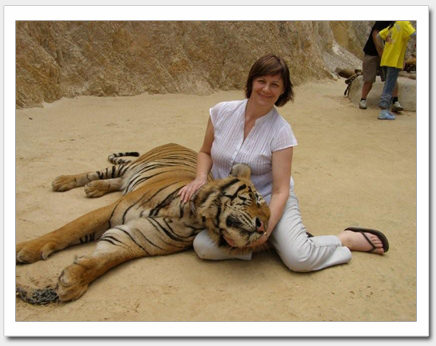 Tourists will be made to line up for any available photo options. Leave your bag, hat, sunglasses, bottled water, umbrella etc. outside or leave them with your guide. Anything dangling, hanging, Tie it up!!
Get your camera ready and give to the staff. Tell him/her how many people are to use your camera. Then wait for your turn. One who shares a camera will be made to wait in the different line.
If you have a knee problem. It's best to just take the normal photo option rather than the special photo option.
One who opts for the special photo, you will be sitting on the ground with the tiger's head in your lap. Be sure to hold the tiger's head and lift the tiger's chin up securely for your own safety reason.
Those in the waiting area are requested to maintain silence, as any noise might antagonize the tigers and cause unnecessary danger to those in the enclosure, especially the ones taking the special photo.
Please don't step on the benches or high rocks, as it might be distracting to the tigers and also inconsiderate to those who will be using the benches after you.
No smoking in the canyon.
Good Luck!!